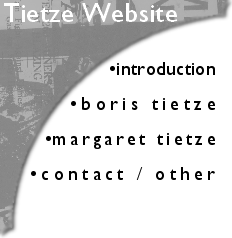 Boris Tietze
Boris Tietze was a student in the sculpture department at the Slade School of Art, University of London, after first qualifying at Manchester College of Art (where he received the Heywood Medal) but his main interest has always been painting. His recent works have a strong figurative element and his style has become looser and more graphic. The subject matter is often wry – a comment on human foibles or domestic insecurity. The medium is oil and most of the pieces are quite large.
He has had a number of sculpture commissions and has exhibited in Manchester Academy Opens, the University of Glamorgan Purchase Prize Open, and the Welsh Eisteddfod. The Tietzes have exhibited together taking their exhibitions to the USA as well as to many UK venues. See full CV.
Boris Tietze – Selected Works
All oils on canvas exhibited here are between 110x91cm and 200x150cm.

The Rapture, oil on canvas.

The Contract, oil on canvas.

Jolly Japes, oil on canvas.
For sale.

The Hold Up, oil on canvas.

Untitled, oil on canvas.

Partying, oil on canvas.

Domestic Scene, oil on canvas.
For sale.

Forensics, oil on canvas.

The Jetty, oil on canvas.
For sale.

Korny Krispies, oil on canvas.

Mother and Son, oil on canvas.

Through the Looking Glass, graphite/water colour on paper.

The Introduction, charcoal on paper.

Interception, oil on canvas.

Flux, oil on canvas.

The Wedding, graphite on paper.


Boris Tietze – Curriculum Vitae
Education
Manchester Regional College of Art - DA, NDD
Slade School of Fine Art, University of London - Diploma in Fine Art
University of Liverpool - Advanced Diploma in Education
University of Wales - M.Ed
Awards
Heywood Medal, Manchester
Scholarship to Slade School
Teaching
Senior Lecturer at Cartrefle College of Education, NE Wales Institute
Lecturer at Open University at degree and post degree level
Commissions
Sculpture of Vulcan, god of steel, produced in 1962 for men's outfitters Hornes Bros, Castle House, 1 King Street, Sheffield. (See archive photo).
Basketball Players, 1960, commissioned by Coventry City Council Education Committee, for Binley Park School (later Binley Park Comprehensive). School buildings and sculpture no longer in existence. (See archive photo).
Sculpture for Cartrefle College
A number of private commissions in sculpture
Sculpture and paintings in private collections
Exhibitions
Opens
Manchester Academy, 1995, 1996, 1997
Singer Friedland, 1998
National Eisteddfodd, 1998, 2008, 2009, 2010
University of Glamorgan Purchase Prize Exhibition 1998, 1999, 2008
Oriel Davies, Newtown - 'Re-Drawing', 2008
St David's Hall, Cardiff - 6 years including 2008, 2010
Royal Cambrian Academy, 2010
North Wales Open, Theatre Clwyd, Mold, 2010
Two Person Exhibitions
'Two Views'

Easton State Theatre Gallery, PA. U.S.A
Haupert Union Gallery, Bethlehem, PA, U.S.A.

'Recent Work'

Oriel Mon, Llangefni, Gwynedd
Blenau Festiniog Library Gallery, Gwynedd
Caernarfon Library Gallery, Gwynedd

'Working Women'

Bersham Industrial Heritage Museum
Beaumarais Museum and Gallery
Oriel, Bangor, Gwynedd

1998 "Drawings" at Bersham Heritage Centre
1999"Drawings and Paintings" at Denbigh Library Art Gallery
Toured with Group 75 in:
1993/4 'Alliances' An American Exchange. Five venues in UK/USA
1995/6 'Game, Rule and Chance', Three venues.
1999/2000 'Dialogue'Tour of six venues
2000/2003 'Spirit of the Place' Tour of nine venues including two in South Africa.
2002/2004 'Ordnance Survey 117' Tour of four venues.
2005/2006 'Open Prospect' Tour of six venues.
2007 Recent Work Royal International Pavilion, Llangollen
Four Person Exhibition
2005 'Signs of Age' Bersham Industrial Heritage Centre.
Current : With Group 75
'Double Vision' Tour of four venues
Work in Open Exhibitions in 2008
Welsh Artist of the Year, St David's Hall, Cardiff
'Re: Drawing' at Oriel Davies Gallery, Newtown.
National Eisteddfod of Wales, Cardiff
University of Glamorgan 'Purchase Prize'
Publications. Author of:
'Haptic and Visual Perception. A comparison of two modes of seeing' (University of Liverpool)
'Quality and Equality in Education' (University of Wales)
Links
Boris Tietze at Ffin y Parc Welsh Art Gallery, Llanrwst, North Wales.